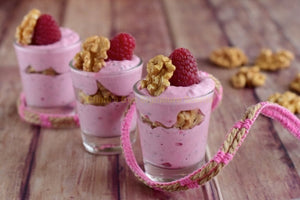 Pink Sangria Shake is a blend of fruit fragrance oil scents that will have you craving indecisively for a real life fruity shake, a sweet slushy drink, or a red wine sangria if you indulge. It is a perfect blend of raspberries, cherries, grapefruits, and red wine that is well balanced with notes of vanilla, peaches and sugar. 
Excellent base scent to use with the Custom Hand Painted Pineapple Bowls(sold separately) or a fruit bowl candle creation.
16oz
Flashpoint: 167
Skin Safe: YES
Vanillin: YES
Phthalate Free: YES
Gel Wax Compatibility: MUST BE TESTED!